Click the

Select Scan button

. A dialog comes up.
You should be on the

ArrayBlocks tab

. If the array-block exists, highlight it. If the array-block does not exist, click the Add button. Then put in information for the array-block, and then click the save-button. After highlighting the array-block, click the

ArraySlides >>>

button. Then will take you to the

Array-Slides tab

.

On the

ArraySlides tab

, pick an array-slide or create a new one. Make sure to enter the cut number and stain. After you have highlighted an array-slide row, click the

Scans >>>

button. this will take you to the

Scans tab

.


On the Scans Tab

, pick a scan or use the add button to create a new one if it does not exist. Do not forget to press the save button. Make sure to choose the proper scanning machine.
Click the

Okay Button

at the bottom after you have selected a scan. You can simply select a scan and skip the array-block and array-slide tab if the scan already exists.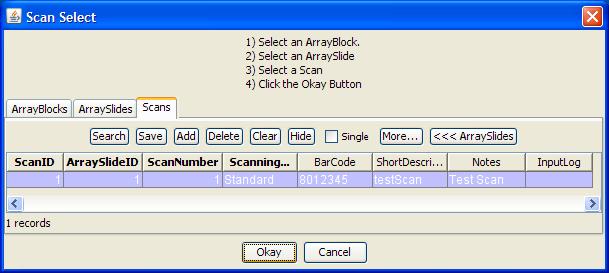 The Select Scan Dialog

. Users select a scan and then click the okay button.