ArrayManager Application

The main purpose of the ArrayManager application is to enter information about ArrayBlocks.
It is also used to view informormation about ArraySlides, and which ArraySlides have been scanned.


Background
ArrayBlocks Tab

IsFinal
After an ArrayBlock has been designed, it is a good idea to check the IsFinal checkBox to prevent anyone from changing the ArrayBlock design in the future.


ArrayBlock Dimensions
Users must know the name of the Array, the numberOfRows, and the numberOfColumns. It is important that the fields NumberOfRows and NumberOfColumns never be given a smaller value. Here's why: Lets say a user puts in a value for (row=15, column=11) in ArrayBuilder. Next, someone changes the ArrayBlock to dimensions (NumberOfRows=5, NumberOfColumns=5). This means that every column and row after 5 is just cut-off, and floating in the database. However, it is acceptable to make the dimensions larger.




ArrayBlocks Tab

ArraySlides Tab

ArraySlides tab

Scans Tab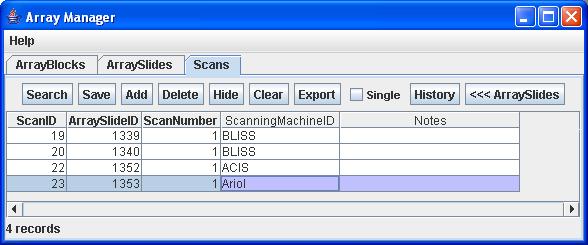 Scans Tab

© Copyright 2009 | All Rights Reserved | The Johns Hopkins University